College football's regular season has already come and gone, and now we're just stuck waiting for the playoff to start. Oh, wait, about that. No, we're not, because Division I doesn't have a playoff. You know, kids would have to miss too much class and all of that. Regardless, it was an action-packed regular season completed with a ton of upsets, some Cinderella teams, some teams that ended up being fool's gold and a Heisman race that's as competitive as any in quite some time. With that said, it's time to unveil my 2011 NCAA Division I All-America team. If you make it all the way to the end, there will even be a Heisman ballot (if people actually asked me to vote on this, which, well, that's for another day).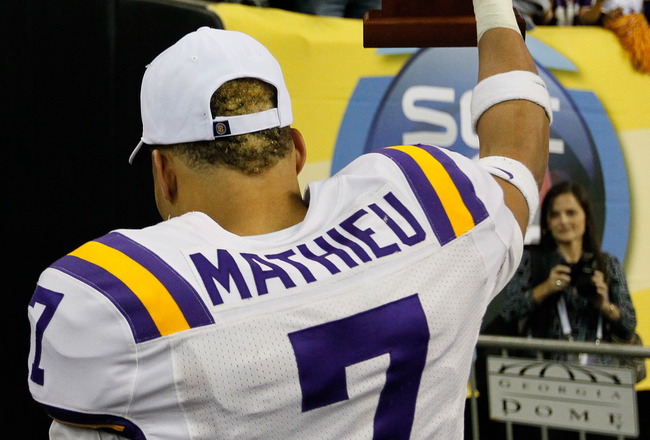 Honey Badger doesn't give a shit about this team, but he's on it.
Photo courtesy of Bleacher Report.
QB- Robert Griffin III, Baylor
RB- Trent Richardson, Alabama
RB- Montee Ball, Wisconsin
WR- Justin Blackmon, Oklahoma State
WR- Robert Woods, USC
WR- Jordan White, Western Michigan
OL- David DeCastro, Stanford
OL- Barrett Jones, Alabama
C- David Molk, Michigan
OL- Kevin Zeitler, Wisconsin
OL- Matt Kalil, USC
DE- Whitney Mercilus, Illinois
DT- Devon Still, Penn State
DE- Melvin Ingram, South Carolina
OLB- Jarvis Jones, Georgia
ILB- Lavonte David, Nebraska
ILB- Luke Kuechly, Boston College
OLB- Courtney Upshaw, Alabama
CB- David Amerson, North Carolina State
CB- Morris Claiborne, LSU
CB/S- Tyrann Mathieu, LSU
S- Bacarri Rambo, Georgia
K- Randy Bullock, Texas A&M
P- Brad Wing, LSU
KR- Taveon Rogers, New Mexico State
PR- Joe Adams, Arkansas
Heisman Ballot
Baylor's first Heisman winner?
Photo courtesy of SB Nation.
1. Robert Griffin III, QB, Baylor
2. Trent Richardson, RB, Alabama
3. Matt Barkley, QB, USC
4. Tyrann Mathieu, CB/S, LSU
5. Montee Ball, RB, Wisconsin
Matt Chandik can be reached by email at matt.chandik@gmail.com or on Twitter @MattChandik.