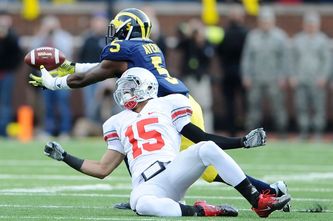 And so the nightmare ended.
Photo courtesy of AnnArbor.com.
By Matt Chandik
WARNING: This is rather lengthy.
It seemed like it would never come.
For the past seven years, Michigan fans have been subjected to pure hell, or at least what pure hell feels like to the winningest college football program. For seven years, no matter the circumstances of the regular seasons, what players donned the Maize and Blue, what coach stood on the sidelines or what players were on the other side, Michigan always fell flat against Ohio State.
There were close games. There were blowouts. There were games where Michigan led late and there were games where a Michigan lead was never even a possibility. Anthony Gonzalez broke the Wolverines' hearts. Troy Smith reached deep into Michigan's collective body and ripped out its heart, shredded it to little pieces while laughing at the Wolverines' collective pain. Chris "Beanie" Wells always picked The Game to play his best of the year, always finding room for at least one back-breaking and soul-crushing run. Ted Ginn streaked down the middle of the field and caught a touchdown pass from Troy Smith against All-America cornerback Leon Hall in the 42-39 "Game of the Century" in 2006, the same one where it was decided that Shawn Crable was at fault for Troy Smith being a midget.
Every year, the pain got worse. Every year, that stupid fucking counter of "Days since Michigan beat Ohio State" added 365 (or 366 in some cases) more agonizing days since the Wolverines had downed the Buckeyes. In 2004, it was Ginn who broke UM's back with a dazzling punt return to set up a 37-21 upset of the Wolverines. 2005 was Gonzalez's turn. 2006 was the Troy Smith Show yet again. In 2007, Chad Henne gamely tried to throw despite a banged-up shoulder, only to see his offensive efforts laughed at by a Buckeye defense that showed no fear of the pass. The 2008-10 games were all a Rich Rodriguez-induced blur, one that saw a whole lot of points for the Scarlet and Gray and not so many for the Maize and Blue. Grown men on Internet forums berated, mocked and took glee in tallying up that counter, using such creative monikers for their rival such as "scUM" and "TSUN" and assuring themselves that Ohio State would never lose another game to Michigan...ever. On the other side, Maize and Blue fans wondered when the next win would come. What would it be like? Who would get it done? Would it the rocket-propelled Floridian at quarterback who would get UM over the hump? How many classes would end up going 0-4 against the folks from Columbus? Could the defense ever return to the Michigan defenses of old, those same defenses that considered 20 points allowed in a game inexcusable? Fear, despair, anger and frustration seeped from the Wolverines' fans into the mindset of the team. It was a team that expected to and was expected to lose. It was a team that couldn't feel safe with a three-touchdown lead. It was, in short, something that Michigan had never expected. Michigan didn't lose seven-straight to Ohio State. Michigan didn't go 3-9 or 5-7. Michigan didn't allow teams to dominate the Wolverines physically, mentally and emotionally. This shit just did not fucking happen.
Then a head coach with a previous losing record stepped in. He loved Michigan. No, scratch that. He fucking adored Michigan. He said he would have walked from San Diego to Ann Arbor to take the job. While Dave Brandon was cordial enough to give Brady Hoke a plane ride halfway across the country, Hoke's point was made. Long gone were the days of The Game being "just another game". Long gone were the days of Michigan being a mockery. He promised a return to I-formation handoffs for four yards, defenses that would make a quarterback quiver, but most importantly, he promised a return to the way things used to be. A complete restoration of the Michigan brand, if you will. Most fans expected this to take a few years. Sure, there was the $750,000 investment in former Baltimore Ravens defensive coordinator Greg Mattison, but Rodriguez had said the year before that, "Even Vince Lombardi couldn't fix some of the problems on this defense," so why would Wolverines expect a 62-year-old defensive coordinator who hadn't been in the college game since he helped the Florida Gators run all over the – wait for it – Ohio State Buckeyes in the 2006 BCS title game like the Buckeyes were a JV team with a 2-8 record? There was the luring of offensive coordinator Al Borges, but what could Borges really do with a kid that couldn't hit throws that weren't wide-open? Denard Robinson could run, but to say the passing needed work is like saying that Ohio State's compliance department is a bit lacking.
All year long, no one was sure whether or not to believe in Michigan. Sure, there were exciting games. The first night game in Michigan Stadium history, a thrilling win over rival Notre Dame, gave hope to some. A defense that finished tied for 107th in scoring defense would end up improving all the way to No. 9 overall with mostly the same players as the year before. Still, in rough-and-tumble games against Michigan State and Iowa, the Wolverines looked flat. They looked easy to push around. They looked, for lack of a better word, soft. If there's one thing Brady Hoke doesn't do, it's soft. The man wears short sleeves regardless of weather. He calls out players that need to be called out. He preaches the virtues of a team that can hit people in the mouth. So calling his team soft is an insult to Hoke, but it was true.
Then something happened. I don't know if a light switch came on, someone ripped the team a new one behind closed doors or whatever it may be, but the Wolverines stopped playing soft. They tore apart a talented Illinois team that many predicted would beat Michigan like a lion snacking on a gazelle. They shredded Nebraska, another team expected to beat UM, like a woodchipper does to a tree that's seen better days. All of that to set up a showdown with Columbus' finest. And something changed yet again. With Michigan leading 37-34 late in the Ohio State game, breakout tailback Fitzgerald Toussaint looked like he had scored a game-icing touchdown. In a move that reeked of Hoke, Robinson took the handoff under center and handed off to Toussaint, who powered his way down and over the goal line. Or so it seemed. Somehow, some way, despite no indisputable evidence to overturn the call, it was overturned. On the next play, Michigan picked up a pair of penalties and had to settle for a field goal, giving the ball back to Big 10 Freshman Of The Year Braxton Miller and the Buckeyes with a chance of winning what could have been the worst game of cat-and-mouse ever. It would have killed Michigan.
Things change, people change and circumstances change. When Miller picked up a late first down by vaulting over UM cornerback J.T. Floyd, I resigned myself to the fact that Michigan was done. Miller would inevitably find someone wide-open for a touchdown, most likely DeVier Posey or Jake Stoneburner, and that would be it. Urban Meyer would be announced as Buckeye coach a few days later and Michigan might never win another Game. Like I said, though, things change. Miller inexplicably spiked the ball on 3rd-and-6 to set up a huge fourth down. He dropped back, danced around in the pocket and fired a wobbler to fellow true freshman Devin Smith. Michigan sophomore cornerback Courtney Avery reached behind Smith, tipped the ball up and landed with it for the interception to set off bedlam in the Big House. Finally, it's time to exhale. Finally, it's time to enjoy the next 360 and some-odd days left until the 2012 version of the Game.
Those who stay....
Photo courtesy of AnnArbor.com through MGoBlog
It's beautiful.
No, I don't care that UM's win came against the worst Buckeye team in a while. First of all, Ohio State put itself in that position. The Tat Five brought this on themselves. Jim Tressel brought this on himself. I know that it's the NCAA's fault because it's just such a mean organization that only acted because it was Ohio State and not because some players decided to act like idiots. I simply don't care. Ohio State didn't give a shit when it was beating some of the worst Michigan teams ever put on the field. Ohio State didn't care when its fans were saying, "Well, you know, since this completely arbitrary year, UM and OSU are even in the series," or, "OSU leads the series since this arbitrary year," or, "Football was not created before Jim Tressel, therefore Ohio State is 1,381-1 against UM since football was created." So pardon me if I don't give a shit. For the next 360 some-odd days, kindly shut the fuck up. I know that's never going to happen, especially with Meyer now at the helm for the next few years, but you don't have shit until that scumbag wins something.
58-44-6, fuckers.
Other notes...
Braxton Miller is a good player. I expected him to be a good player. I expected him to have a career game against Michigan. But until he learns to complete more than 50 percent of his passes and until he learns to throw a spiral instead of a duck, let's hold off on anointing him as the greatest thing since sliced bread. (For the record, I fully believe that sliced bread is cooler than Braxton Miller, but that's just me.)

Zach Boren, you're a clown. Listening to you whine about how "disrespectful" and how it's a "lack of class" that Michigan had the audacity, the GALL, to celebrate a major win over you and your team is laughable. This is the same asshat who started an O-H-I-O chant (congratulations to Ohio State fans are in order on that one. No one expected them to properly spell a four-letter word.) in Michigan Stadium two years ago with the game well in hand. This is the same douchebag whose brother transferred from Michigan to Ohio State, thrashed the coaching staff on his way out and dressed as Rich Rodriguez for Halloween to mock him. This is the same moron who cried because Rodriguez didn't offer him a scholarship because Rodriguez never offers fullbacks. Yeah, I'm going to take lessons on "class" from you. Right. Same goes for you, Jeff Heuerman and Brad Roby.

Ryan Shazier is Ohio State's next All-American linebacker.

Enough of that shit now. More Michigan stuff. Blake Countess will be Michigan's best cornerback since Leon Hall.

Taylor Lewan is a stud. Teams should just stop pretending like their pass-rusher will make it by Lewan. It's not happening.
Non-UM/OSU stuff...
Trent Richardson is my Heisman winner. He does it all for Alabama. He could have put up more yards against LSU, despite not having his best night, but apparently Nick Saban was saving him for something else. Only 23 carries that night? Laughable.

Luckily for Trent, he should get a second crack at LSU. I want the two best teams in the title game. Sorry, Oklahoma and Oklahoma State, it's not you. Put your hand down, Stanford and Oregon. Who the hell let Houston in the room? Get out of here and come back when your schedule doesn't look like what the computer gives you in NCAA 12 on "easy". Virginia Tech? Seriously?

I badly underestimated Michigan State. I said before the year that Sparty could go 6-6 with a daunting road schedule, but the Spartans proved me wrong. Excellent defense, opportunistic offense, a seasoned quarterback, a douchebag of a coach who allows thugs and felons on his team and a sprinke of luck made for a good year.

Unfortunately for MSU, that good year meets a roadblock in the Big 10 title game. Take Wisconsin and the points, thank me later.

Glad to see Mike Leach back in coaching. Those Washington State vs. Arizona games should be basketball-esque.

My top five for the Heisman? Glad you asked.

1. Trent Richardson, RB, Alabama

2. Robert Griffin III, QB, Baylor

3. Andrew Luck, QB, Stanford

4. Montee Ball, RB, Wisconsin

5. Matt Barkley, QB, USC
Picks for this weekend? Glad you asked. Y'know, if gambling were legal and all.

Five College Games

Oregon -31 over UCLA (Pac-12 title game)

Baylor -3 over Texas

LSU -13.5 over Georgia (SEC title game)

Wisconsin -9.5 over Michigan State (Big 10 title game)

Oklahoma +3.5 over Oklahoma State.

Five Pro Games

Philadelphia -3.5 over Seattle

Atlanta -3 over Houston

Denver +1 over Minnesota

New England -20.5 over Indianapolis

Oakland +3 over Miami
To reach Matt Chandik, email him at matt.chandik@gmail.com or on Twitter @MattChandik.