Photo courtesy of LSUFreek.
In college football, the Grim Reaper doesn't show up decked out in a black hooded cloak and a scythe. He doesn't ghoulishly stare down his future victims from his bony skeletal body. He even has the courtesy of giving his victims advance notice of what he's capable of and what he's going to do to them.
No, in college football, the Grim Reaper shows up wielding a Yahoo! Sports press pass, a tape recorder, a smartphone, a pen and a pad. He doesn't stand out physically, other than his blondish red hair. He's one of the few intelligent and good people Michigan State can proudly claim as its own, especially with Chris Hansen leaving that exclusive list. In college football, the Grim Reaper goes by the name of Charles Robinson, and if he's on your campus, well, you might as well admit everything you ever did wrong in your lifetime and beg for forgiveness. By the looks of it, though, that's not stopping him any time soon.
Robinson and Yahoo! colleague Dan Wetzel raked Ohio State over the coals for the tattoo, cash and impermissible benefits scandal that eventually cost Jim Tressel his job, Terrelle Pryor his senior season and Solomon Thomas, DeVier Posey, Dan Herron and Mike Adams the first five games of the 2011 season (with Jordan Whiting getting one game and Dorian Bell also being suspended before deciding to transfer), he went on ESPN radio and called that piece an eight out of 10. Robinson said he was working on something that would be a 10 and that it would be released in August.
Fast forward to August, and, well, it's here. Robinson didn't disappoint, though he might have undersold his piece by a few zeroes. Here it it is in all of its glory. I'd call it scathing if I didn't feel that it undersold Robinson's efforts. Before I get into it, let me allow you to see what Robinson himself had to say about the piece on Twitter.
"

We audited over 20,000 of Shapiro's business docs, multiple years of credit card bills, 5,000 pages of cell bills and over 1,000 photos."
"

Nine former UM players or recruits and one former UM coach corroborated portions of Nevin Shapiro's accounts of rule breaking."
"

We have corroborating sources, either human, document or photographic, on at least 72 Miami players or former recruits receiving benefits "
"

Seven former coaches and three support staff either witnessed, had knowledge or participated in Shapiro committing NCAA violations. "
You can even view what every player named in the investigation is accused of doing by browsing each player's page. It's that detailed.
This is, without a shadow of a doubt, the closest thing that the NCAA has seen to the death penalty since Southern Methodist University for the 1987 and 1988 seasons. Quite frankly, there's really no way out from this one. Charles Robinson is a reputable journalist who has broken stories on the likes of USC, Ohio State, North Carolina, Oregon, Tennessee, Auburn and a host of others. His credibility on the matter if second to none. That combined with the research that he allegedly put into the matter basically means that Miami is, well, fucked.
From what Robinson says, nearly anyone and everyone at Miami had his or her hand out for Nevin Shapiro's money. Shapiro grew up in South Florida and when he grew up, decided that he wanted to run the Miami athletic department. He was called a hanger-on, a wannabe, a jocksniffer and undoubtedly way more and way worse. He never even attended the U, instead studying at the University of South Florida, but always rooted for the 'Canes. He had money and plenty of it for the reason that he now rots in a New Jersey prison- a Ponzi scheme that totaled $930 million, according to Wetzel. Of that $930 million, nearly $83 million of it came from investors.
Robinson's article covers everything. The bounties on rival quarterbacks Chris Rix and Tim Tebow. The hookers (including one where Shapiro allegedly paid for an abortion to protect an unnamed player), lavish parties at some of Miami's hottest spots, use of his yacht, waterfront home, meals, televisions etc...Basically, it's anything you may have seen in Blue Chips or on Jesus Shuttlesworth's official visit in He Got Game. Robinson also alleges through Shapiro that several coaches knew of what was going on. Shapiro also allegedly tried to goad Miami's director of compliance into a fight at halftime of the Orange Bowl finale, a beatdown at the hands of Virginia. The director of compliance promptly looked into who Shapiro was, saw that he was part owner of a sports agency that several 'Canes players signed with and promptly....did nothing. Robinson also provided a picture of Shapiro holding court at a charity bowling event with Miami president Donna Shalala gleefully staring in disbelief at a $50,000 check from Shapiro, which, of course, came from the Ponzi scheme money. More than 70 players were implicated in Robinson's expose, including the likes of Andre Johnson, Devin Hester, Jon Beason, D.J. Williams, Vince Wilfork and a host of current players.
Quite frankly, I can't quite sum up everything that Robinson wrote. Go read it for yourself and ask yourself how many awards he will win for his investigative piece. What I can say, though, is what I think can and should happen to the Miami program. I know that the NCAA is undoubtedly scared of scarring another program with the death penalty. SMU still hasn't recovered from its beating at the hands of the NCAA, though it's on the right track now with former Hawai'i head coach June Jones at the helm. If the death penalty is ever going to be dusted off, though, this is the time. The Michigan fan in me is disappointed in the timing of this since it takes much of the heat off of Ohio State (even though ESPN would never have you believe it. More here. While I don't mind Ohio State getting backed over by a truck, let's not make your anti-Big 10 bias more transparent than it already is.), but this is huge. If USC got a reduction of 30 scholarships over three years as one of its biggest punishments, what will Miami get? 50? 80? 120 over 10 years? The NCAA has shown that it's not consistent with its punishments and doesn't even care enough to pretend to be, but at this point in time, it wouldn't be surprising to see Miami's program blasted back to the Stone Age.
Predictably, Miami fans are trying to defend this with an army of excuses. "This happens everywhere" is a common one. "Robinson is scum and a liar" seems to be another favorite. "People are just jealous of Miami" is one that former USC athletic director Mike Garrett would be proud of. Does this stuff happen in most top-flight Division I institutions? Actually, I'd venture to say it does. Maybe they don't have a luxury yacht on the Atlantic Ocean like Miami does, but would anyone be surprised to hear that Joe Schmo, All-American running back got paid money to go to (THIS IS A HYPOTHETICAL EXAMPLE. NOT A REAL ACCUSATION) Florida State over offers from Michigan, Ohio State, Alabama, Oklahoma, USC, Texas and Florida. No? Didn't think so. If a compliance department doesn't care, doesn't want to care or is just too oblivious to police things like these, it shouldn't be all that surprising. There will always be boosters whose No. 1 interest is to get their favorite schools the best players by any means necessary. There will always be boosters whose No. 1 or No. 2 interest is to get close to these players to use them for future financial gain or just to feed their ego, much like in Nevin Shapiro's case. Shapiro called himself Lil Luke after being a younger version of former 2 Live Crew frontman and former 'Canes booster Luther Campbell. Campbell allegedly offered bounties to Miami players for touchdowns, interceptions, big plays and his rumored favorite- knocking quarterbacks out of the game. However, Lil Luke took things to another level and here's what the original Luke had to say about it.
My personal favorite quote? "
Shapiro is nothing more than a jilted groupie who fucked over a lot people. He is an opportunistic schemer who now wants to play the role of jailhouse snitch. His word isn't worth squat, especially if Yahoo! paid him for the exclusive. Nevin is angry because he couldn't get former players to invest in his Ponzi scheme or come to his rescue when his criminal enterprise was exposed.
I always had a feeling Shapiro was a sketchy motherfucker. I could see right through him two minutes into our first conversation.
"
"

So did Randy Shannon, who warned all of his assistants that if he caught them with Shapiro, he would fire them. Randy hated that beady-eyed defamer. Surprisingly, Shannon's name was conspicuously absent in Yahoo!'s breathtaking 11-month investigation.

"
Campbell says these things, yet he's photographed on Yahoo!'s report with Shapiro sporting a broad smile in what looks to be a luxury suite.
However, one thing that sticks out here is that even if everyone else does do it, it doesn't make it right. Additionally, if there's one thing the SEC has taught us, it's that if you're going to cheat, be good at it so the NCAA can't prove anything. That's where Miami failed. With Nevin Shapiro having the athletic department and much of UM's administration in his back pocket, he was able to run the program and with one fell swoop, bring it to its knees. I'm not going to pretend like his word is law and that's he's a beacon of honesty, but Charles Robinson isn't the type of reporter to put his neck on the line without cross-checking his facts more times than Shapiro allegedly paid players and crossing every T and dotting every I. Robinson said that he corroborated his story with multiple witnesses and that this story took nearly a year to come together. I'm sorry, Miami fans, but this really doesn't look good. I feel bad for Al Golden, who has to be kicking himself for leaving North Philly for Coral Gables. (By the way, who ever thought they'd read those words?) Golden made it a point to make sure that everyone and their mom knew that this transpired before his arrival in Miami, but if he sticks around, he's going to be stuck cleaning up Nevin Shapiro's shit. How can he possibly recruit kids to Miami now with the looming sanctions and Charles Robinson's fingerprints all over the UM campus? Florida State and Florida were already pummeling the 'Canes in recruiting. Now, it won't be hard for other SEC, ACC, Big 10 and Big East programs to swoop into the "State of Miami" and the South Florida area to poach kids that may have once been 'Cane locks. It's going to take some serious dedication to want to play for Miami over the next few years. If USC got a two-year bowl ban, is a five-year bowl ban for Miami out of the question? 10? What about a television ban? On the bright side, I think the SEC just found its perfect 14
th
member. The 'Canes already showed their boosters can run with the big boys of the SEC.
The bottom line is that Miami will have a serious pile of shit to dig out of and the U may be clawing at that pile as it accumulates on top of what was once a proud program. Charles Robinson already did a successful job of burying the program and if even 25 percent of what he alleges is true, then the U may not be heard from again for a long, long time.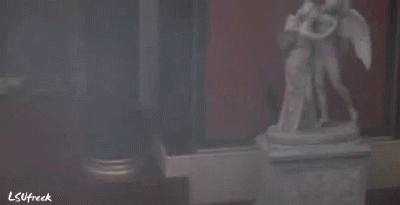 Photo courtesy of LSUFreek.